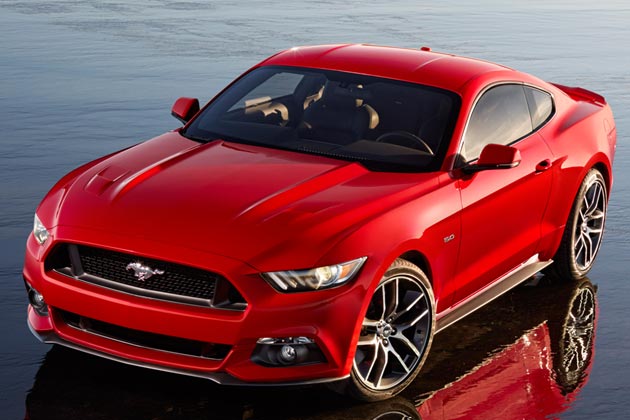 In a new style model, the newest technology of Ford is carried and the most innovative evolution in 50 years of history is accomplished.
New style Mustang is the proportion of the long nose & short deck Front nose, a galloping hose, etc. of the reverse slant called the rear combination lamp of 3 連, and the Shirk nose, leaving the traditional design element which turns out to be Mustang by a glance Modern approach was given skillfully and is again born to a completely new design.
Interior design makes the inspiration obtained from the airplane reflect, and realizes the cockpit where offer of information required for the driver under operation in an instant and the outstanding operativity based on ergonomics are high.
Furthermore, pursued craft Manship to details and the high interior space of textures was secured, and also the newest equipment including SYNC which is the advanced driver connection technology of Ford is also carried, and the environment where a drive can be enjoyed more comfortable more safely is offered.
In addition to the lineup of V6 engine and V8 engine, the 2.3L EcoBoost engine which is the newest green engine of Ford is newly added to a power train.
In transmission, automatic transmission with a selection shift is put together, and the exciting driving performance of Mustang can be enjoyed.
axle part also boils a front and rear と, adoption and a front are MacPherson Strutt styles and the newly developed suspension system is newly equipped with the perimeter type subframe of a light weight and high rigidity -- rear は -- it is newly adoption about an integral link type independent suspension.
The outstanding travelling performance and comfortable nature are made to make compatible at a high dimension.
In Mustang, it came out, and catching the automobile fan's heart was continued in an instant, and, as for the bold design, the powerful engine, and the exciting driving of a rear wheel drive on April 17, 1964, 9 million or more sets have been produced and sold.
Greeting the turning point of 50 years, the specialty car representing the United States extends the stage to the world, and builds new history.
You can have a look
Japanese Used Vehicles
and Used Sport cars.